Mitreli - Masmanidi, Ariadni – Foteini, Faculty, Art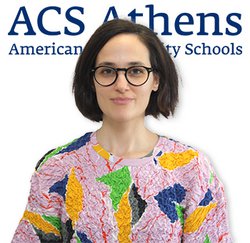 Ms. Ariadni – Foteini Mitreli - Masmanidi is a UK-educated illustrator, who specializes in children's book illustration, [UAL, University of Camberwell MA in Visual Arts (Illustration), University of Wolverhampton BA (Hons), in Illustration]. She holds a teaching certificate from the Athens School of Fine Arts. In addition to that, she has completed seminars on Special Needs Education and on Human Rights and Sexual Education from the University of Patras.
She originates from Patras, Greece, and lived for six years in the UK.
She discovered her passion for teaching Art, two years ago, during her studies at ASFA. For the last couple of years, she has worked with students of different age groups. This year, she will also voluntarily teach Art at her local Care Center for the elderly.
As far as her illustration work is concerned, she enjoys working by hand; creating illustrations inspired by nature, everyday experiences, and hobbies. She has worked on numerous illustration projects and collaborated with well-known, in their field of expertise, professionals. She has worked in children's illustrations, festival posters, 3D modeling, textile design, ceramics, wallpaper design, everyday–life journals, exhibitions, and more.
By being part of the faculty team of ACS Athens, she is able to fulfill her dream of working in Education. Her ambition is to constantly evolve and challenge herself as an individual. She is looking forward to helping students explore their creative nature, grow through Art, raise awareness, get inspired, and discuss their interests and concerns through their art practice.
Ms. Ariadni is a supporter of the teaching of inclusion and student-centered education. As a caring educator, she helps students express their creative selves through the vessel of Art.
email: mitrelimasmanidif@acs.gr