Mikros, Vassilis, Faculty, Physical Education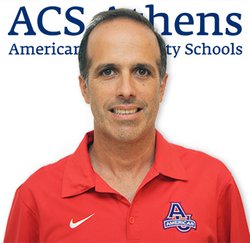 Mr. Mikros was born in New Jersey and raised both in the United States and Greece. He earned a bachelor's in History from Kean University in Union, New Jersey, and a post-bachelor degree in Physical and Health Education (K-12). He is certified by the State of New Jersey to teach Physical Education/ Health. He worked as a substitute Physical Education teacher in public schools in the United States before moving to Greece.
In 2013 Mr. Mikros co-presented a workshop at the ECIS Physical Education Conference, Surrey Sports Park, England, titled "Ice Breakers, Bonding Activities for the first day of school.
Apart from being an emergency responder (CPR/First Aid for adult/child/infant), Mr. Mikros is a certified Lifeguard and a (Level D) wall climbing operator/supervisor.
He has been a member of AAHPERD (American Alliance for Health, Physical Education, Recreation, and Dance.)
Mr. Mikros has been a member of the ACS faculty since 2005, teaching Physical Education to Elementary School, Middle School, and Academy students. He is currently teaching 7th and 8th grade Middle School Physical Education. In addition, he has been involved with the Saturday Youth-to-Youth program responsible for the athletic activities. For the past 30 years, Mr. Mikros has been a folk dance instructor, volunteering his time to teach and preserve his culture here in Greece and in the United States.
Mr. Mikros is the coach for the Middle School and Academy Cross Country Teams, the Junior Varsity Boys Soccer, and the Middle School Track & Field Teams.
email: mikrosv@acs.gr