Kourtis, Chris, Faculty, Physical Education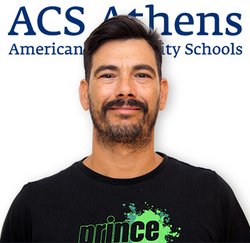 Mr. Chris Kourtis was born and raised in Athens, Greece. He studied Physical Education and Sports Science at the University of Athens, where earned his Bachelor's Degree in 2003, specializing in Tennis.
He has been actively involved in teaching Physical Education at ACS Athens since 2009, at all three school levels. Currently, he is teaching MS 8th and 7th grade Physical Education.
In 2018, Mr. Kourtis was recognized by Stanford University for his exceptional teaching and his dedication as an educator and a mentor.
During the 2020 and 2021 lockdowns, Mr. Kourtis joined the "Home base PE summit" and participated in more than 20 webinars with PE professionals from all around the globe.
Mr. Kourtis is a member of the American Coaching Academy, where he is gaining valuable professional development and resources.
Besides his teaching background, Mr. Kourtis, is a certified lifeguard, a (level D) wall climbing operator/supervisor and has successfully completed the Emergency First Response Course that follows current guidelines for emergency patient care.
Mr. Chris Kourtis has been coaching tennis since 2001 and, in 2007, joined the ACS Athens Tennis Academy, coaching team. He is also the coach of the ACS Athens Middle School Tennis team.
email: kourtisc@acs.gr