Kotsiani, Athanasia, Faculty, Physical Education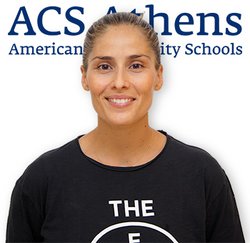 Ms. Athanasia Kotsiani earned her bachelor's degree in physical education & Sports Science from the National and Kapodistrian University of Athens, specializing in swimming (2004). She holds a Master's in education and Creative Learning from Democritus University of Thrace (2014).
She joined the ACS Athens faculty in 2005 teaching Physical Education in Middle and High School. Currently she is teaching 6th and 7th grade Physical Education.
The past few years has participated in many webinars, PE summits and training workshops and she had the opportunity to collaborate with other PE teachers and swimming instructors from all around the globe, exchange ideas, which helped her to integrate technology into her PE classes.
Ms. Kotsiani is a certified lifeguard (PASHNA), an international swimming official (Athens 2004 Paralympic Games), a ''Level D'' wall climbing operator/supervisor and an emergency responder (CPR/First Aid for adult/child/infant).
Ms. Kotsiani is a swimming Instructor and member of the Greek Swimming Coaches Association (Σ.Ε.Π.Κ.Υ.Σ.Κ.). She worked for several years in various swimming clubs in Athens and from 2004 to 2023 has served our after-school swimming program in many different positions (Instructor/Aquatics Coordinator/Event Coordinator).
She has coached the HS swimming team from 2005 to 2023 and the cross-country team from 2016 to 2023.
Besides her teaching background and certificates, Ms. Kotsiani has performed significant voluntary service. She served as a volunteer in the Olympic Games in Athens 2004 under the Swimming Competition Management Team.
Later, she coached swimmers with intellectual disabilities for 2 years, helped them to discover their own strengths and abilities and participated in the 2011 Word Summer Games in Athens (Special Olympics). Ever since she always participates in fundraising events and volunteering wherever she can because she strongly believes in making a difference in the lives of others and guiding her students by example.
Ms. Kotsiani was born and raised in Athens, Greece.
email: kotsiania@acs.gr