Kalogridakis, Stelios, Middle School Counselor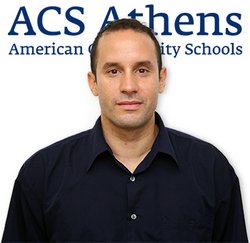 In his fifteenth year at ACS Athens, Mr. Kalogridakis was born and raised in New Brunswick, New Jersey. He received his Bachelor of Arts in History from Rutgers University in NJ, his Masters of Arts in Teaching from Boston University, and holds both Massachusetts and New Jersey Social Studies 6-12 teaching certifications. He has also completed extended graduate work in Clinical Psychology and is finishing up his CTC International Counseling certification.
Having worked as an Academy Counselor for 7 years, past Interim MS principal and Counseling Coordinator for grades K-12, he is now in his 8th year as our Middle School Counselor, as well as a member of our Social Studies 6 faculty. A past advisor of the National Honor Society, Model United Nations club, and Student Council advisor, he has also coached JV Volleyball, MS Cross Country, and the MS Basketball recreational team under the Athletic Department.
email: kalogridakiss@acs.gr