Embrock, Mike, Middle School Principal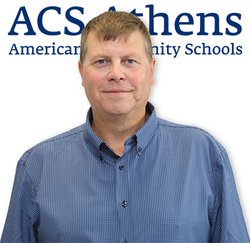 Mr. Mike Embrock continues to be a dedicated and passionate educator and lifelong learner with 30 years of experience in education. His experience includes 12 years of teaching Secondary Social Studies (all in the state of South Dakota in the United States) and 18 years of Secondary Education Administration (in South Dakota and Iowa).
Mr. Embrock earned his Bachelor of Science degree from South Dakota State University (SDSU) with a major in Geography Education and also earned his Masters of Education with a specialty in Education Administration from S.D.S.U. He continues to learn and grow as an educational leader to best guide and facilitate teachers in their pedagogical practices.
A major priority of Mr. Embrock's is to enhance the positive and healthy learning environment of ACS Athens Middle School. Students need to feel safe and a sense of belonging in order to learn. ACS Athens will promote a culture of respect of self and others with a focus on responsible character. The students will be encouraged to demonstrate a growth mindset and love and curiosity of learning.
Mr. Embrock will encourage teachers to reflect and collaborate on their teaching pedagogy and challenge them to further develop their learning with a growth mindset. Communication and collaboration are priorities to improve our teaching practices and student learning. There will be a focus on developing and cultivating positive professional relationships with teachers and staff and showing an authentic appreciation for their dedication to our students.
Mr. Embrock is excited about his new adventure with ACS Athens Middle School and is confident that his passion and experience will be of service to the school and community.
Mr. Embrock has been married to his wife, Susan, for 29 years and has 3 children - Aaron (26), Isaac (23), Amber (20), and dog (yellow labrador retriever) Kya. He enjoys spending time with his family, experiencing the outdoors, golfing, hiking, traveling, reading, and watching movies.
email: embrockm@acs.gr