Chen, Hsuen-Chin, Faculty, Chinese Language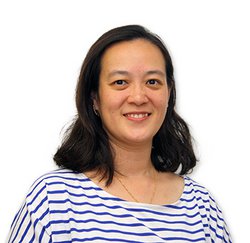 Dr. Chen was born and raised in Taipei, Taiwan. She earned her B.S. in the Department of Medical Laboratory and Biotechnology from Chung Shan Medical University in 1998. She continued medical study and earned the M.A. and Ph.D. Degrees from the Immunology Department of National Taiwan University in 2007. She was a leader of Master and Ph.D. students and taught them experimental techniques, grant writing, and thesis writing in Chinese and English.
After graduation, she worked for several years as a European representative for a Taiwanese pharmaceutical company. She also has experience as a Chinese-English translator. After a few years of work, she realized teaching was her true calling. She believes in inspiring students not only academically but personally. She is a person full of passion for the teaching profession and is a qualified Chinese teacher with several years of experience teaching children and adults in Athens, Greece. Dr. Chen joined ACS Athens in 2018. She teaches Chinese Language and Literature in Middle School and High School. She also serves as the advisor for the Chinese-Greek Intercultural Club to help students feel engaged in a multicultural environment and foster inclusivity.
email: chenh@acs.gr