Bakoyannis, Christina, Faculty, Science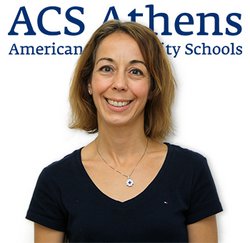 Ms. Christina Bakoyannis earned a Bachelor of Science Degree with a Major in Biochemistry from McGill University, Montreal, Canada (1996). She then received a Master of Education, Special Emphasis Degree from La Verne University California (2007). She holds an Equivalency Degree in Biology from the University of Patras and is a certified teacher from the Hellenic Ministry of Education.
Over the course of the years, Ms. Bakoyannis has held the position of science department chair and coordinator. She has participated in AERO Science workshops as well as NGSS workshops. For many years she has served as a NESA Virtual Science Fair (NVSF) Coordinator and has been a co-advisor for the United Nations Day in the Middle School.
She has co-presented workshops at the ACS Athens Annual Conferences on Learning Differences titled "All for One, Science for All" in 2010, "The NESA Virtual Science Fair: the 21st century paradigm shift in science learning" in 2014 and "Art Communicates Science" in 2015. In 2016, she co-presented at the NESA Conference the work done by the Middle School on the refugee/migrant crisis. This work was also presented at the ACS Colloquium with teachers and students engaging in a reflective dialogue on stage. In 2018, she co-presented at the NESA Spring Educators' Conference an ACS Athens Middle School case study titled "Ethos Education through Collaborative Leadership".
In 2018, Ms. Bakoyannis became a certified Critical Friends Groups coach (National School Reform Faculty). She has served as a facilitator in the ACS Collaborative Learning Communities which promote teacher collaboration and professional growth, and has also attended the Teaching, Learning, Writing and Leading workshop at ACS Athens.
She has been a member of the ACS Athens faculty since 2000 and has taught both in the Middle School and the Academy. She is currently teaching 7th and 8th grade science.
Ms. Bakoyannis was born and raised in Montreal, Canada.
email: bakoyannisc@acs.gr