Soseilos, Sophia Stella, Faculty, Visual and Performing Arts Division Chair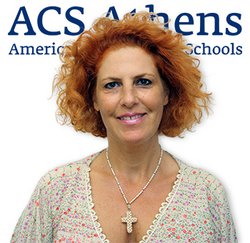 Sophia Stella Soseilos is the Visual and Performing Arts Division Chair of ACS Athens since 2018. At the same time she is a High school Art Teacher and an IB Visual Arts Instructor. She has been to ACS Athens since 2012. She is a Greek Cypriot who was born in Germany, lived in Cyprus, studied in South Africa and moved to Greece in 1995. She has a Bachelor's degree in Fine Arts from WITS University, South Africa, majoring in Painting and Theater Design and a Masters degree in Creative Writing from the University of Western Macedonia, in Greece.
She has worked as an Artist, Art Teacher, Interior Designer and Stage Designer for numerous theaters and TV Set Productions in Greece and Cyprus. She is also an author. She has short stories published in two books. Her book "When Color and Forms Become Words" was published in 2021. Most importantly Sophia Stella Soseilos has a passion for teaching Art. She embraces diversity, and has a great way of motivating and introducing creativity and design thinking into the education space. She is able to connect and communicate with her students. She defines targets and strategies and has the ability to convert vision to execution.
email: soseiloss@acs.gr