Arnold, Heike, Faculty, German Language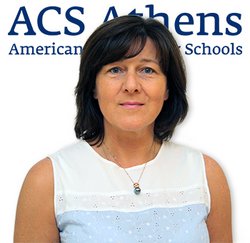 Ms. Arnold earned a Bachelor Degree of German Linguistics and Literature from the National and Kapodistrian University of Athens in 2007, where she graduated with honors. Ms. Arnold also obtained a Master of Arts Degree in Education and Media from the University of Rostock in Germany in 2014 and a Master of Arts Degree in Educational Leadership from the University of Duisburg/Essen in Germany in 2023.
She specializes in teaching German as a foreign language. In addition to German and English, she also speaks Greek and French.
A member of the ACS Athens faculty since 2010, she teaches the Middle School and High School students German as a foreign Language, as well as develops e-learning concepts for foreign languages in general, which will be applied to her academic research. A fellow of the ACS Institute, Ms. Arnold participates as an online instructor at the ACS Athens Virtual Program and prepares students for the AP German Language and Culture exam.
Ms. Arnold co-authored a chapter in the 2016 publication "Revolutionizing K-12 Blended Learning Through i2Flex Classroom Model" and in the 2021 publication "Handbook of Research on K-12 Blended and Virtual Learning Through the i2Flex Classroom Model". In addition, she provides professional development (presentations, workshops, and webinars) to other foreign language teachers in Greece and abroad.
Since 2017 Ms. Arnold has been working as an accredited TestDaf examiner. TestDaf is one of the mandatory language proficiency tests for foreign students who want to enter a German university.
Ms. Arnold was born and raised in Germany and moved to Athens in 1996.
email: arnoldh@acs.gr