Sinouris, Lia, Faculty, 5th Grade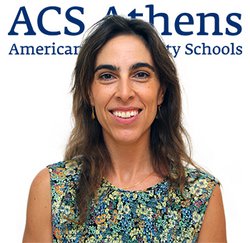 Ms. Lia Sinouris earned her Bachelor's degree in 20th Century European History from Connecticut College, USA, (spending semesters abroad in India and the Czech Republic) and completed her MA in Special Education (Inclusion Studies) in London, England, at the Institute of Education. Her International Teacher Certificate (ITC) was obtained from ECIS and the University of Cambridge (International Examinations). She has, additionally, earned her Equivalency Degree from the Greek Ministry of Education.
Her teacher calling began 22 years ago where she tutored students with learning differences; she encouraged their learning styles and assisted them with their academic responsibilities. Since then she has worked in various international schools in Athens and remains fascinated with the realm of international education as she believes it provides the platform for authentic and innovative learning. She has previously worked at ACS Athens in the Optimal Learning Program and the 4th grade and avidly supports each student's unique capacity to create magic and think outside the box. This year will mark her second year as a member of the 5th grade team.
Throughout her academic career Ms. Sinouris has attended numerous conferences and seminars related to her areas of interest including NESA, the Learning Differences Conference hosted by ACS Athens and other professional development conventions (in Teaching Math, Teaching Reading and Spelling, Developmental Disorders, and Co-Teaching). She has, additionally, co-written articles for the ETHOS magazine and presented at the 2016 ACS Athens Colloquium on the effects of planning time within a partnership model. Learning in an intercultural context, dimensions of language, inquiry-based learning, and student transition are ongoing research interests. Her educational philosophy is founded on the notion that not all students learn in the same way. Ms. Sinouris is overjoyed to be embarking on another learning adventure with the 5th graders this year and hopes to be able to leave a positive mark in all her students' lives.
email: sinourisl@acs.gr