Rovoli, Irini, Faculty, Greek Language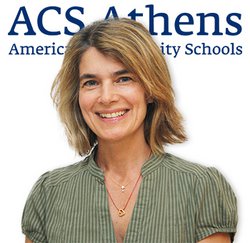 Irini Rovoli holds a B.A. in Education from the University of Athens, School of Philosophy, and an M.A. in the Psychology and Education of Children with Special Needs from the University of London, Institute of Education. She also pursued advanced piano studies at the National Conservatory of Athens and studied Drama at Veaki Drama School, Athens.
Ms. Rovoli began teaching at high school level at the Hackney Community School in London and in the Greek public sector at Varibopi Athens High School for Repatriated Greeks. She joined ACS Athens in 1995 and has been a teacher of Greek in Elementary and Middle School ever since. She also taught 5th grade English Language Arts class and has served as Team Leader. In 2017, Ms. Rovoli was also assigned the role of Elementary Interim Vice-Principal.
Ms. Rovoli actively contributed innovations in the Greek language curriculum of the elementary, including content design for grades JK-5 and the elementary school Greek national celebrations. She co-authored an article in the British Journal of Educational Psychology and has published articles in the Institute of Education Alumni magazine, NESA News magazine, and ACS Athens Ethos. As co-advisor of the ACS Athens Elementary Turtle Club, she presented this innovative environmental initiative on student leadership and action through Project-Based Learning at the ECIS Conference in 2012 in Athens and at the NESA International Conference in 2013 in Bangkok, Thailand. Her presentation at the ACS Athens Colloquium 2016 was her original work on rhyming grammar rules for Greek language learners.
As a Fellow of the ACS Athens Institute, Ms. Rovoli has designed the HS virtual course Greek Language and History. Ms. Rovoli is a certified Critical Friends Groups Coach (National School Reform Faculty) and has served as a facilitator in the ACS Athens Collaborative Learning Communities. Ms. Rovoli successfully completed a 9-month seminar offered by the Aegean University on the subject: Greek as a Second/Foreign Language.
email: rovolii@acs.gr