Panayiotopoulos, Marianna, Faculty, 1st Grade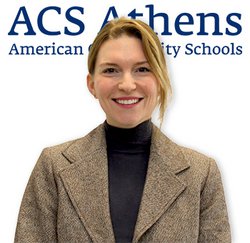 Marianna Panayiotopoulos was born in St. Petersburg, Russia and moved to the United States at the age of 4. She was raised in New York City, where she also completed the total of her education. She graduated Magna Cum Laude from Brooklyn College receiving a Bachelor's Degree in psychology, with a strong interest in child psychology. Marianna went on to pursue a Master's of Business Administration at Baruch College with a focus in International Business.
Marianna is linked to ACS as multiple members of her family are alumni. In 2020 Marianna and her family moved to Athens. As a mother to a young child she was inspired to pursue a career in education and obtain her teaching license through the state of Arizona. She has a strong passion, understanding, and appreciation for childhood education and the firm foundation it provides students for future success in their lives.
Previously, Marianna was the permanent substitute teacher in the Elementary School. Marianna is now a full-time educator at ACS Athens in the Elementary School. She is confident that her experience in the US educational system and familiarity with professional development in the United States will help in the guidance she provides to the community of students who may also seek similar academic routes.
Since her first day at ACS, Marianna has felt a sense of family with the faculty and staff and each day at this institution further confirms her decision to enter a career path in elementary education. She strives to always maintain a positive attitude in the classroom, and help students feel heard, appreciated, and supported. She believes every child has a unique superpower that should be embraced.
email: panayiotopoulosm@acs.gr