Oikonomidi, Christiana, Faculty, 5th Grade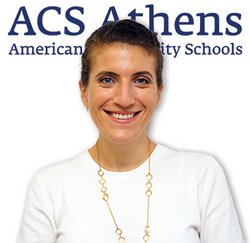 Christiana Oikonomidi has been working in Education since 2009, both in Greece and Doha, Qatar. She holds a Bachelor's degree in Elementary Education from Aegean University. She is experienced in the Greek Primary School National Curriculum, the British Early Years Foundation Stage, the Montessori Method in Early Childhood, and the American Curriculum (AERO).
Ms. Oikonomidi has experience teaching Nursery to Grade 4 and has worked as an educational administrator. To put into practice her belief of the importance of inclusion in the classroom, Ms. Oikonomidi completed a year-long Ministry of Education project that trained general education teachers to work with mixed groups of children, including students with special educational needs in the general education classroom.
Ms. Oikonomidi was born and raised on the beautiful, cosmopolitan island of Rhodes, Greece, an environment that exposed her to many different cultures from a very young age. In 2013, she moved to Doha, Qatar, where she lived and worked for 7 years, gaining valuable life and work experience in a truly progressive, multicultural environment. Ms. Oikonomidi is proud to be part of the ACS Athens Faculty Team as a Fifth Grade Teacher.
email: oikonomidic@acs.gr