Klimou, Vicki, Faculty, 2nd Grade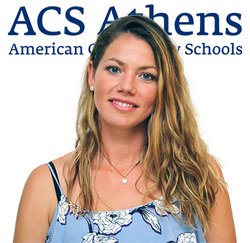 Ms. Vicki Klimou is Greek-Canadian who was born and raised in Vancouver, BC, Canada. There, she completed her BA from Simon Fraser University with a concentration in both Psychology and French Literature and Linguistics. She obtained her TESOL Diploma and is a certified ESL teacher. More recently, she studied at Moreland University and completed her teacher certification program and is in the process of obtaining her US teaching license. Furthermore, Ms. Klimou is a Certified Positive Discipline Classroom Educator, as well as a Certified Positive Discipline Parent Educator and, most recently, she was accepted as a Positive Discipline Trainer Candidate.
Prior to coming to Greece, Ms. Vicki Klimou's teaching career began in Canada at a Montessori institution, teaching the French language at Early Childhood levels. In 2007, she moved to Greece and worked at private language schools teaching both ESL as well as Kindergarten. She has been an educator at ACS Athens since 2008. An extensive and varied teaching experience, she has taught French in the Middle School, Junior Kindergarten, First Grade, and is now ecstatic to be teaching Second Grade for her sixth year!
Considering herself a lifelong learner who is constantly looking for new knowledge and challenges, has attended and participated in many conferences, including the annual conference on Learning Differences and Innovative Summit held at ACS Athens, as well as the 2012 ECIS conference. During lockdown and throughout online learning, Ms. Klimou participated in numerous webinars specifically geared toward online learning. Ms. Klimou has also participated in numerous webinars from ISS, AERO Science Critical Areas for K-5, and an intensive Math training workshop with Mrs. Emma Anderson, focused on teaching conceptual Math. Some other courses that she has completed include a Stanford Mathematical Mindsets course, a "Teaching Foundational Reading Skills" course as well as a "SEL for Educators" course. Ms. Klimou has also received intensive training in the NGSS (New Generation Science Standards). She has participated in an intensive Systems Thinking Workshop and incorporates elements of this model in her classroom. Very active in other areas of ACS, she has taught the beginner's Greek course at the Institute for Innovation and Creativity, coached the JV Girls Soccer team, assisted with the Varsity Girls Soccer Team, and has also coached elementary soccer in the after-school programs. This year, she is very excited to be coaching JV Girls soccer again! Moreover, she has worked for the ACS Summer Youth Camp for numerous years. Furthermore, she has been conducting action research over the past few years which explored the effects of cultivating a Growth mindset in her classroom while implementing mindfulness techniques and how this would affect her 2nd grade student behavior, as well as academic performance. She participated also in a series of workshops for differentiated instruction and inclusion as well. This year, she will be holding a Growth Mindset Masterclass for parents as well as Positive Discipline parenting classes. Finally, Ms. Klimou will travel to ACS in Doha, Qatar this November as she was selected to present at the 2023 ECIS Early Childhood Conference. The theme of the conference is "Rise Up, Elevating and Empowering the Joy of Early Childhood Learning" and her workshop is titled "Class Meetings the Positive Discipline Way".
Ms. Klimou is passionate about teaching young children and strives to make every child in her classroom feel happy, safe, loved, and accepted. Her goal as an educator is to connect with every child, and ensure that every student of hers feels belonging and connection. Ms. Klimou is passionate about Growth Mindset, where her students understand and learn that their talents and abilities can be developed through effort, good teaching, and persistence.
email: klimouv@acs.gr