Karatza, Zoi, Instructional Technology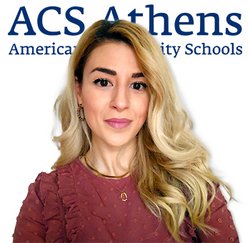 Ms. Zoe Karatza received her B.A in Early Childhood Education from the National and Kapodistrian University of Athens. She completed courses in the field of Psychology on Learning Disabilities and Psychology of Emotions during her studies at the Italian University of Padova. Ms. Karatza has also completed her M.A. degree in Information and Communication Technology in Education (ICTE) from the National and Kapodistrian University, University of Thessaly and Technological Education Institute of Piraeus.
Ms. Karatza worked at a STEM learning center as an Early Childhood teacher as well as the Coordinator of the Early Childhood Programs (in Coding) developing the curriculum, implementing it as well as training other teachers. Ms. Karatza has worked with learners across grade levels at ACS Athens as an assistant to the Optimal Learning Program (OLP) for Elementary School, Middle School, and Academy. Having been exposed to different instructional environments in the Elementary School over the past 4 years, as the OLP assistant, the Permanent Substitute Teacher and Learning Support Specialist, Ms. Karatza has gained valuable experience in incorporating motivational activities and positive reinforcement, integrating engaging teaching methods as well as supporting students with learning differences. She has also been involved in many aspects of school life as a Learning Enhancement After School Programs instructor, the ES House System Coordinator and ES Student Council Advisor.
Her research entitled "Information and Communication Technology (ICT) as a Tool of Differentiated Instruction: An Informative Intervention and a Comparative Study on Educators' Views and Extent of ICT Use" was presented at the 7th International Conference on Education and Management Innovation in Italy and published in the International Journal of Information and Education Technology. Ms. Karatza has also presented her research entitled "What are the effects of the Artificial Intelligence pilot program on 4th Grade students' knowledge, skills, and dispositions?" at the 5th International Conference on Future of Teaching and Education.
In her Technology classes, She is highly interested in guiding her students to be conscious citizens while focusing on digital citizenship. Her action research on Promoting Social and Emotional Learning through Digital Citizenship lessons has been presented at the ECIS Inclusive Education Conference 2023.
Ms. Karatza is committed, inventive and finds her drive from the inside out while creating a positive, fun learning environment that encourages students to feel confident and inspires them to experience and use new technologies while being responsible digital citizens.
email: karatzaz@acs.gr