Karatopouzi, Efthimia, Faculty, Physical Education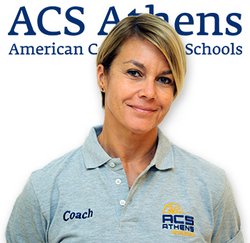 Ms. Efi Karatopouzi was born in Greece having a Greek Australian citizenship (Australian mother) and was raised abroad until she finished first grade. Then, she came to Greece where she graduated from Greek High School and continued her studies at the School of Physical Education and Sports Science at the National and Kapodistrian University of Athens, where she earned her B.A. with specialization on Track and Field. In 2017, she earned her B.A. in Child Psychology at the University of the Aegean. She currently got her diploma in Mindfulness studies from the USMASS memorial institute of Massachusetts. She holds a Play therapy diploma, and she is also a Kids Yoga family instructor.
Ms Karatopouzi has participated in personal development courses regarding teaching methods for large classes as well as teaching physical education to kids with autism. She is an official Archery, Track and Field, and National Nordic coach.
Ms. Karatopouzi has a rich experience in physical education. She has worked as a fitness teacher for many years in several sports clubs for adults and children and as a volunteer physical education teacher at Zannia Institution, where she worked with abused children. She has been a member of the Greek National Track & Field team for 15 years and has competed in national and international competitions in Greece and abroad. She is co-founder and co-creator of Fitness Nordic. She is also the author of a children's book on Role Exercise workout: A new way to make kids' fantasy work with creativity by listening and exercising.
Ms. Karatopouzi began working at ACS Athens in 2016 as a Physical Education Teacher in the Elementary School and has undertaken different posts in the Athletic Department in all three schools and ACS Athens Summer Camp since then. In 2017 -2018, she piloted a Mindfulness program for students in Junior Kindergarten classes, which has continued to run up to this year also. Her pilot Mindfulness research paper was presented at the International Mindfulness Convention, held in Slovenia. She has also offered her services voluntarily to the Youth-to-Youth Program at ACS Athens.
Ms Karatopouzi has done an action research in the MBS program that she has been working in ACS. School since 2017.She has published her research in books and magazines and presented as well in various conference in Europe.
Ms. Karatopouzi is also a member of the ECIS committee on Physical education.
Ms Karatopouzi is a certified Rescuer from the Greek political protection and a Certified BLS Instructor from ERC.
email: karatopouzie@acs.gr