Herzig, Stefania, Faculty, 4th Grade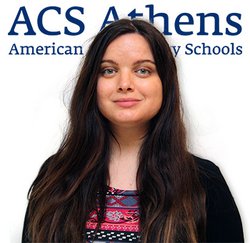 Mrs. Herzig is a Greek-American teacher that was born in Iraklio, Crete but grew up in Las Vegas Nevada. Born to a Greek mother and an American father, Mrs. Herzig lived her childhood in both the United States and Greece.
Mrs. Herzig earned her Bachelor's of Psychology from the University of Las Vegas, Nevada, and her Masters in Elementary Education from the National University in California. She also received a STEM certification from VEX Robotics and was honored by the president of the National University for her academic excellence.
Before graduating from UNLV, Mrs. Herzig worked as a teacher's assistant or paraprofessional for special education classrooms from January 2013 - 2015. Then, she worked as a Teacher/Parent facilitator for Las Vegas High School from 2015 - 2019, leaving only to pursue a teaching career in elementary at Clark County School District in Nevada. Mrs. Herzig did her student teaching for 5th grade and went on to teach 4th grade, special education for 3-5th grade, 1st grade and is now a full time teacher at ACS Athens.email: herzigs@acs.gr