Eleftheriou, Iliana, Faculty, 2nd Grade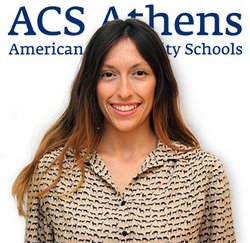 Iliana Eleftheriou received her B.A. degree in Elementary Education, Grades 1 - 6 from the National and Kapodistrian University of Athens. She completed her M.A. degree in Special Educational Needs from the University of East London and earned her International Teacher Certificate (ITC) from the European Council of International Schools (ECIS) and the University of Cambridge (International Examinations).
Ms. Eleftheriou previously worked at ACS Athens as a Shadow and Substitute Teacher and collaborated with private psycho-educational centers using her expertise in Special Education. She has participated in various professional development courses and seminars offered by the British Council, the University of San Diego Extended, and Stanford University. This past year she completed seminars offered by ECIS and the Institute for Responsive Schools. She presented at the ACS Athens Colloquium in 2016, demonstrating the "Shadow Teacher Partnerships" and the "Role of the Shadow Teacher" within ACS Athens.
She is a firm believer that every student is unique and capable of success. Helping students achieve their full potential is her greatest reward. This is her tenth year at ACS Athens. She has taught 4th grade for five years and this is her second year teaching 2nd grade.
"Education is the most powerful weapon we can use to change the world". - Nelson Mandela
email: eleftherioui@acs.gr