Chiskaki, Martha, Faculty, ESL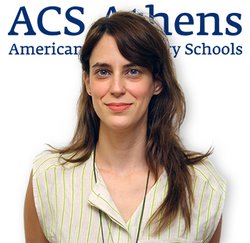 Originally from Athens, Ms Martha Chiskaki was raised in Bulgaria, Italy, India, and Thailand. During her time abroad, she attended several international schools, which contributed to her fluency in four languages: Greek, English, Italian, and French. She holds two bachelor's degrees- one in English and Greek Language and Literature and one in French Language and Literature both obtained from NKUA (the National and Kapodistrian University of Athens). She is currently a junior at NKUA, pursuing a degree in Italian Language and Literature. Additionally, she earned her Master's Degree in Business Administration at the Bolton University, UK.
Throughout her career, she has worked in various roles, including positions at the National Bank of Greece, at the European Public Law Organization as junior editor for the European Review of Public Law, at Teletypos SA Mega Channel as a translator, and at the Ministry of Foreign Affairs.
She recently participated in the Metaverse Cultural Diversity project, a collaborative initiative focusing on SDGs between ACS and Hisar School in Istanbul.
Currently in her fifth year as an educator at ACS Athens, Ms Martha Chiskaki is dedicated to teaching English as a Second Language in the Elementary School. Her objective is to create an optimal learning environment that facilitates the improvement of English skills for each student.
email: chiskakim@acs.gr