Birbil, Christina, Faculty, 3rd Grade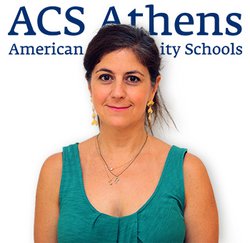 Ms. Birbil graduated Magna Cum Laude from New York University with a Bachelor of Science degree in Early Childhood and Elementary Education with a minor in Philosophy. She pursued her teaching career while simultaneously receiving her Master's degree in Education from The University of La Verne. With her Graduating Thesis: The Socio-Emotional Benefits of Animals in the Classroom, and her Black Belt in Mixed Martial Arts, Ms. Birbil brings a select brand of empathy and perseverance into her life's work. She has been teaching here at ACS Athens since 2005 and is looking forward to welcoming third graders into their new school year.
Ms. Christina Birbil is a Greek-American who was born in Spain and grew up in Spain, Italy, England, South Africa, Mexico, the United States (Austin, TX. and New York City), and Greece. A true citizen of the world and a self-professed (Adult) Third Culture Kid, she understands the make-up of our student body as she, too, has traveled the world attending international schools.
In the fall of 2012, Ms. Birbil introduced Captain Chip (her tripawd rescue puppy) into the first-grade arena and the ACS Athens community at large. As a pioneer, Captain Chip became the mascot of the elementary school and an inspiration both academically as well as socially. In 2013, Ms. Birbil and Mr. Koutsopoulos joined forces and created what is now known as the Dogs in Learning program.
Throughout her career, Ms. Birbil has participated in various professional development training programs and seminars, including a PYP training seminar in Burgos, Spain; a NESA conference in Athens, Greece; and several Learning Differences conferences hosted at ACS Athens campus.
In June of 2012, she completed her Critical Friends Group Coaches Training and is an accredited facilitator for the National School Reform (NSRF). Ms. Birbil has been a group facilitator here at ACS Athens from the start, helping to create a trust-based community through collaborative group processes in which colleagues reflect on their practices, share ideas and promote problem-solving. She is an active mentor in ACS Athens' Mentorship program for onboarding new faculty.
In the spring of 2015, Ms. Birbil and Mr. Koutsopoulos (along with K9 companions) presented the ACS Athens Dogs in Learning Program at the European Council of International Schools (ECIS) conference in Zurich, Switzerland. At the ACS Athens Colloquium in 2016, Ms. Birbil and her first-grade students held an interactive demonstration for visitors, "Captain Chip – A Canine Literacy Partner: Demonstration of a novel Early Elementary school literacy project." Also, at the ACS Athens Colloquium, Ms. Birbil presented a Morphosis talk on Constructivist/Inquiry-Based Teaching and Learning, illustrating "Design Time: An ACS Athens Elementary School Genius Hour".
Ms. Birbil is a member of the Dogs in Learning Team alongside with Ms. Sophia Moros, Ms. Sophia Tsinakis, Ms. Carla Tanas, Mr. Theo Koutsopoulos and Ms. Xenia Vafopoulou.
email: birbilc@acs.gr