Bibidakis, Katherine, Faculty, 3rd Grade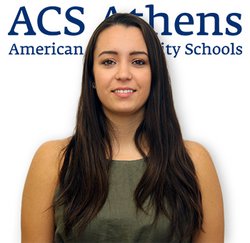 Ms. Bibidakis earned a Bachelor of Science in Education from Cleveland State University with a concentration in Mathematics and Science. She also completed her Masters in Curriculum and Instruction and a STEM certificate through the University of Cincinnati. Four years ago, Ms. Bibidakis attended the AERO conference, where she focused on the English/ Language Arts standards, as well as new teaching approaches.
Ms. Bibidakis taught 4th and 5th grade at Paul L. Dunbar, a public school in Cleveland, Ohio. She also taught Greek to 6-8-year-old students in the Greek community in Cleveland. This is her sixth year teaching 3rd grade at ACS Athens. During the two previous school years, Ms. Bibidakis was the advisor to the ACS Athens Elementary School Honor Code. Honor Code's goal was to provide the ACS Athens Elementary School students with a network of constructive and purposeful activities, as well as embody our school's 3 R's (Ready, Respectful, Responsible) in our actions and decisions in and outside of school. One of the most innovative and educating initiatives during the 2021- 2022 school year was Artificial Intelligence (AI). Ms. Bibidakis was a facilitator in the ACS Athens Elementary School as she was guiding the faculty in expanding their comfort level. Ms. Bibidakis is very excited to be part of the ACS Athens family. Ms. Bibidakis was born in Philadelphia, Pennsylvania, and shared her childhood between the United States and Greece.
email: bibidakisk@acs.gr