Andrikopoulos, Dora, Elementary School Principal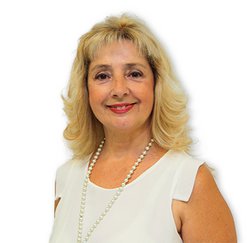 Ms. Andrikopoulos, born in Melbourne, Australia, earned a Bachelor of Science Education with a major in Mathematics from Melbourne University, Australia 1983.
Ms. Andrikopoulos has been teaching at ACS Athens since 1989. She has taught Science and Mathematics at all elementary, middle, and academy levels and has worked extensively with the curriculum.
Ms. Andrikopoulos has also held Math Bowls, Math Clubs, Mathematical Olympiad Programs, and SAT classes for interested and motivated students. She has taught students in the Youth-to-Youth Program, helping them adjust and integrate within a regular daily school program.
Ms. Andrikopoulos has been JK -12 Mathematics Coordinator for over ten years, developing and implementing curriculum initiatives. She has also led the school as an Internal Coordinator for Accreditation, leading the Middle School with Action Research and supporting the Sustaining Excellence protocol.
Through many enriching experiences during her teaching career, Ms. Andrikopoulos has published articles on "The Art of Teaching Mathematics" and "Brain Research and Cognitive Thinking". She has also been an active participant and school presenter at NESA Conferences in Europe and Asia, AERO Mathematics Conferences in Europe, and USA, ICODL and EDEN-OSOS Conferences in Athens, Greece.
Ms. Andrikopoulos has also published a series of mathematics books, "Mathematics A Thematic Approach Books 1, 2, 3" for upper elementary and middle school students to help them consolidate, use, and apply mathematical concepts. She has also published a mathematics book "General Knowledge Math Refresher" to help educators prepare easily and thoroughly for their Teaching Certificate.
As a scholar and educator, her research in recent years has involved finding ways to enhance conceptual understanding of mathematics. Her Action Research work mainly focused on Cumulative Assessments, Student-Designed Culminating Projects, Instructional Rubrics, Best Fit Differentiated Instruction Models, and Cultivating positive mindsets to demonstrate Sustainable Development Goals through student models to address global challenges.
Ms. Andrikopoulos has also created school videos through the ACS Media Studio as she has implemented various processes with her students in and out of the classroom on Project-Based Learning.
Ms. Andrikopoulos is currently the Elementary School Principal. She takes great pride in being a member of ACS Athens and is always looking forward to implementing best practices supported by a professional learning community framework. She is passionate, and her goal is always to cultivate a positive, healthy school environment where students feel confident and strong.
Ms. Andrikopoulos values providing opportunities for students to develop into independent thinkers and responsible, conscious citizens. She is continually and carefully working towards supporting the best-fit learning path for our students.
Ms. Andrikopoulos enjoys traveling, exploring new places, and spending time with family.
email: andrikopoulosd@acs.gr