Weston, mary, Faculty, English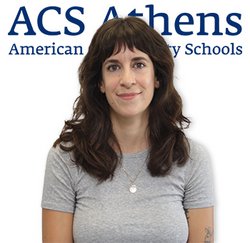 Ms. Mary Weston was born in Athens, Greece and raised in Philadelphia, Pennsylvania. She holds a B.A. in Literature from Bard College (2012) and a M.A.T. in Secondary English Education from Brown University (2017). Mary taught in the School District of Philadelphia for six years prior to joining ACS, using the IB curricular framework for teaching and learning for five of those years. While in Philadelphia, Mary primarily taught 10th grade IB MYP English and Theory of Knowledge 1 and 2, while also serving as Model UN Advisor and Student Council Advisor. At ACS, she is thrilled to be utilizing her IB experience while teaching IB Language & Literature and Theory of Knowledge 1 and 2.
Mary particularly enjoys working with students on their critical thinking, discussion, and written communication skills, both in academic and creative capacities. She believes in the power of education to connect and transform individuals and communities, and feels humbled to play a part in each individual student's process. In her spare time, she enjoys reading, cycling, and spending as much time outdoors as possible!
email: westonm@acs.gr