Syropoulos, Evangelos, Faculty, English, Division Chair of Language and Literature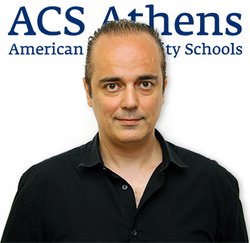 Dr. Evan Syropoulos is an accomplished educator, researcher, and an IB and AP Capstone-certified teacher, with a unique interdisciplinary academic background spanning English Literature, Critical Theory, and the Performing Arts. He earned his BA in English Language and Literature (1995), his MA in English Literature and Culture (1999), and his PhD in Musical Theater (2008) from the School of English Language and Literature of Aristotle University. He conducted postdoctoral research and/ or taught literature and theater courses at Aristotle University, Ghent University (Belgium), and Goldsmiths College (University of London). His research has been published in peer-reviewed journals in Greece, Belgium, and the UK.
His commitment to advancing his teaching methodology led him to become a College Board-certified AP Capstone teacher in 2017, after training at McBride High School, Long Beach CA. In 2019, he further honed his skills at the AERO Summer Institute at Marymount University, Virginia, receiving training in the English Language Arts AERO standards.
In 2016, he began his impactful journey at ACS Athens, initially working as the Writing/ Research Studio Coordinator and then primarily teaching IB English A: Literature, IB English A: Language and Literature, and IB Theory of Knowledge. In 2019, he joined the ACS Athens Institute as Fellow, designing and teaching an online course in English Literature for ACS Athens Virtual. From September 2022, he also serves as Division Chair of Language and Literature. This year, he teaches IB English A: Literature Yr. 1 and Yr. 2 and IB English A: Language and Literature Yr. 1 and Yr. 2.
Currently, Dr. Syropoulos is also collaborating with Ms. Sophia Thanopoulou on the development of the Inquiry and Performance Learning Model (IPLM). This endeavor marries his love for literature, theater, and teaching, underscoring his commitment to pioneering effective and engaging teaching methods.
email: syropoulose@acs.gr