Stylianidi, Louisa, Faculty, Art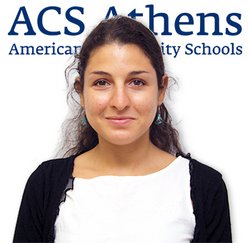 Ms. Louisa Stylianidi has a Masters Degree in Fine Art from Goldsmiths College, University of London, for which she received an excellence award and scholarship from the Leventis Museum in Cyprus and she holds a BA Honours in Fine Art from Kingston University, a teaching qualification from the Athens School of Fine Arts and has received merit-based bursaries to further her education in courses at the Royal Drawing School, London. She was born in Cyprus and lived in London for eight years, where she taught students from different age groups. She has taught in London and Athens and has also taught and designed lessons for the schools programme of the University for the Creative Arts, UK.
Ms. Stylianidi has also taught drawing and painting to refugees and sculpture to blind and visually impaired students and holds a qualification in Braille. In 2018-2019 she lectured at Liverpool Hope University, where she was an artist in residence. She is a practising artist with a concentration on sculpture, poetry and drawing and has recently illustrated a poetry book which can be found at the National Library of Greece. She has gone on artist residencies in Denmark and Cyprus and has taken part in exhibitions in Cyprus, London, New York and Athens.
This is Ms. Stylianidi's third year at ACS and she believes in a classroom where the students can be researchers as well as active and curious learners through a material-based approach, where they are able to learn about art movements through creating themselves.
email: stylianidil@acs.gr