Stachikas, Christos, Faculty, Physical Education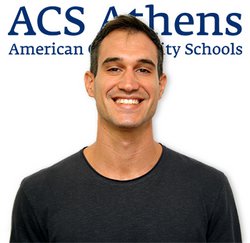 Mr. Christos Stachikas was raised in Athens, Greece, and Miami, FL, in the United States, where he graduated from high school.
Following his return to Athens in 2010, he earned a Bachelor's Degree in Sports Science and Physical Education from the National and Kapodistrian University of Athens with a Specialty Diploma in Biology of Exercise. In May of 2020, he completed his postgraduate studies, earning a Master's Degree in "Applied and Molecular Physiology" from the Medical School of the National and Kapodistrian University of Athens.
In 2016 Mr. Stachikas served his military duty in the Greek Presidential Guard, the honorary unit of the Hellenic Armed Forces. He has also been working as a professional basketball coach for nine years, the past three coaching for the Panathinaikos BC Academy.
Mr. Stachikas is entering his fifth year in the ACS Academy, teaching Sport, Exercise and Health Science, and Health and Physical Education.
email: stachikasc@acs.gr