Saini, Katerina, Faculty, Mathematics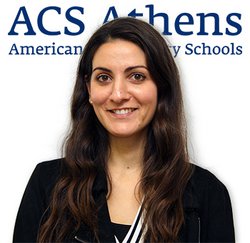 Ms. Katerina Saini studied and received her bachelor of Mathematics degree from the University of Patras, Greece. She earned a Master's degree in Special Education from Bridgewater State University, MA, in 2014.
For five years, she taught mathematics and special education in the United States to grades 6 to 12. She holds a Massachusetts teaching license in both Special Education and Mathematics for Grades 5-12. Throughout her career, she had the opportunity to teach students from different educational and cultural backgrounds and she is experienced in developing different strategies and approaches by identifying each student's unique learning style. She has also worked as an instructional skills coach for the after school program Coaching for Change, in Taunton, MA.
She has been a member of ACS Athens since 2019. This year she will be teaching Algebra 2 and Trigonometry Honors and Geometry with Algebraic Topics in the Academy, as well as Pre Algebra 7 in the Middle School. In the previous years, she taught Algebra 2 and Trigonometry Regular, Heart of Mathematics, Statistics and Business Mathematics, Geometry with Algebraic Topics Regular and Pre Algebra 7. In addition, she has been a Mathematics Competition Coach for grades 2 and 4-6 and she has co-designed and co-taught the Summer Scholars Academy Course "Math Explorations'' addressed to Middle School students.
email: sainia@acs.gr