Prodromidi, Elina, Faculty, Science, Division Chair of Science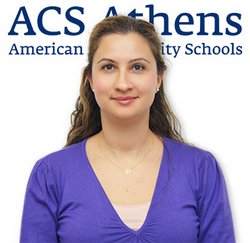 Dr. Prodromidi earned a B.Sc. in Cell & Molecular Biology from the University of Essex, UK. She then continued her graduate studies at Imperial College London, UK, where she obtained a M.Sc. in Immunology and a Ph.D. with a full scholarship in Renal Medicine and Stem Cell Biology. She has worked in research and her scientific work has been presented in conferences world-wide, and has been acknowledged numerous times with international awards, such as the Best New Scientist (2006, UK). She has also published articles in scientific journals and co-authored books.
After the completion of her post-graduate studies and since her return to Greece, Dr. Prodromidi has worked both as a research scientist and an educator. To her, teaching means inspiration, creativity, and even a challenge to pass on knowledge and ethos to every student. Her teaching experience ranges from middle school students through university students. Additionally, she has co-authored the textbook and the handbook of research entitled "Revolutionizing K-12 Blended Learning through the i2Flex Classroom, a novel pedagogical approach of teaching and learning first established at ACS Athens. Dr. Prodromidi is an IB examiner in Biology and has been a Faculty member at ACS Athens teaching IB Biology and IB Environmental Systems and Societies since 2010. Currently, she is also the Chair of Division of Science K-12 at ACS Athens.
email: prodromidie@acs.gr