Pittas, Evelyn, Academy Vice Principal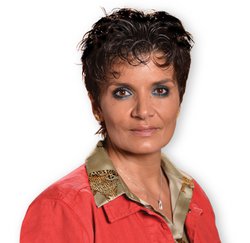 Evelyn Pittas earned her B.A. in English Literature, from Gwynedd-Mercy College and her M.A. in English Literature, from Kutztown University and Lehigh University. She has also earned her Teaching Certificate from the state of Pennsylvania and attended numerous workshops and conferences in IB, Learning Differences, Writing for teachers, and Leadership for the 21st Century. Currently, Ms. Pittas is the Vice Principal of the Academy and is studying to earn her Doctorate of Education from the University of Nicosia.
Ms. Pittas' commitment to her leadership and teaching is mirrored through her highly energetic and enthusiastic personality. She specializes in teaching Group 1 in the International Baccalaureate Program. As a Group 1 and Extended Essay Examiner since the late 1990s, she has experienced first-hand four consecutive changes in the Group 1 curriculum for the IB. As the English Department Coordinator and the English Language and Literature educator at ACS, Athens, both at the Higher and Standard levels since 1998, her dedication, aptitude, and finesse to inspire, motivate, and lead diverse students while consistently maintaining a solid history of very high achievement is her pride and joy. Conscious citizenship and empathy are at the center of her leadership, teaching, and learning which promote ethos, morphosis, critical thinking, and problem-solving skills and encourage her students to make intentional choices and assume responsibility for their own actions. As a mentor teacher since 2014 and current Vice Principal, she successfully interacts and productively leads her colleagues into the professional requirements and expectations of the Academy. Her areas of expertise include building and maintaining excellent relations with students, parents, faculty, and administrators; she is self-motivated with excellent planning abilities, organizational skills, and implementation strategies in the curriculum. Ms. Pittas upholds her professional skill and growth through attendance and presentation at a variety of professional development events and conferences.
In addition to her responsibilities as Vice Principal, Ms. Pittas has been involved in a variety of positions at ACS Athens, including Forensics Oratory Coach, Coordinator and Judge at Pan-Hellenic Tournaments, 10th and 12th grade Student Council Advisor, Blue and Gold School Newspaper Advisor, Model United Nations Advisor, Activities Coordinator, Bonding Day Coordinator, Graduation Coordinator Assistant and is a member of the National Honor Society committee. She also served on the ACSTA Executive Council as President and the Federation Executive Council as Vice President.
Her mission as Vice Principal is to develop confidence in each student so that they will seek knowledge, question answers, and believe in their own abilities to become lifelong learners. She supports all students, listens willingly, and provides a loving environment so they can understand the bliss of learning and take pride in their accomplishments.
email: pittase@acs.gr