Mitchell, Natalie, Faculty, Science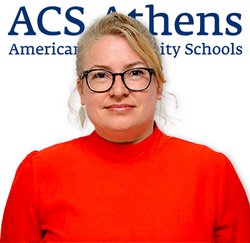 Dr. Natalie Mitchell was raised in Louisiana, USA, prior to attending high school at ACS. She earned her BSc. and MSc. in Biomedical Sciences from the University of Greenwich, London. While working for the UK National Health Service (NHS) in infectious disease diagnostics, she was awarded Runner-Up Innovation of the Year for the invention and development of a rapid detection method for multi-drug resistant bacteria. She moved to Greece to continue her research in Professor Eleni Giamarellou's lab at the National and Kapodistrian University of Athens at Attikon Hospital, before moving back to the US. At the Biodesign Institute of Arizona State University (ASU), she developed recombinant and attenuated vaccines before embarking on a PhD in Microbiology at ASU, where she was the recipient of a prestigious Achievement Rewards for College Scientists (ARCS) Fellowship. Her PhD involved biomarker discovery using mass spectrometry and led to multiple additional patents.
Dr. Mitchell got the "bug" for teaching at ASU, where she taught Biology, Microbiology, Molecular Biology and Immunology to undergraduates, as well as mentored Capstone and Honors projects. She has co-authored multiple scientific articles with students and hopes to continue doing so at ACS. She has also taught at Grand Canyon University and the Mayo Clinic Medical School in Arizona.
She has over a dozen peer-reviewed scientific publications, has given a number of scientific presentations around the world and is the author of 4 patents.
At ACS Athens, Dr. Mitchell will be teaching Biology 9, IB Biology Yr. 1 and IB Environmental Systems and Society Yr. 2 during the 2022-2023 academic year.
email: mitchelln@acs.gr