Manoli, Androniki, Academy OLP Inclusion Specialist, LEP Instructor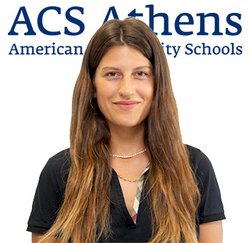 Ms. Androniki Manoli earned her Bachelor's degree in Philosophy, Pedagogy, and Psychology from the National and Kapodistrian University of Athens (2015). She holds a Master's degree in Special Educational Needs from the University of Leeds, UK (2017).
Ms. Manoli has been working at ACS Athens since 2021 as a Shadow Teacher and a LEP Instructor. This is her first year as OLP Elem/MS/Academy Inclusion Specialist, supporting students in OLP in all three schools by collaborating closely with faculty in a co-teaching model to ensure that differentiation is being implemented.
Prior to that, she worked as a Special Educator in the UK where she practiced evidence-based interventions for students with neurodevelopmental disorders. She has also worked at the Amsterdam International Community School as a Learning Support Teacher, where she built expertise in differentiation and inquiry-based approach. During her undergraduate degree, she volunteered at SOS Children's Villages by implementing psycho-educational activities to enhance the emotional, social, and cognitive skills of children aged 4-7 years old. While in the UK and the Netherlands, Ms. Manoli taught Greek as a second/ foreign language.
Ms. Manoli has also attended several seminars and professional development workshops some of which include, ECIS, "Applied Behavior Analysis", "Refugee and Immigrant Education and Support: Intercultural Views and Practical Applications", "Mindfulness-Based Cognitive Intervention", among others. She speaks Greek, English, and Spanish.
She is adept at creating a positive difference in her student's learning development by promoting a socially just, multicultural classroom environment that delivers meaningful and long-lasting results for a diverse range of needs and interests. She is passionate about implementing inclusive teaching strategies as differentiation empowers all students to reach their maximum potential. Finally, Ms. Manoli is fond of surfing, hiking, and art exhibitions.
email: manolia@acs.gr