Litsas, Panagiotis, Faculty, Physical Education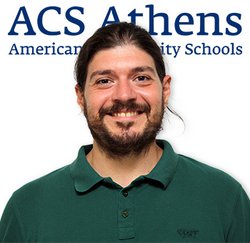 Mr. Litsas Panagiotis is a Physical Education teacher and sports scientist and teaches Physical Education at the high school of ACS Athens. He is a graduate of the Aristotle University of Thessaloniki, he holds a Master's degree in Kinesiology, which he obtained from the same department, and a Post Graduate Diploma in Sport and Exercise Science from Cardiff Metropolitan University.
His coaching career started a while ago, back in 2007 when he worked as a Special Olympics Weightlifting coach for Panserraikos weightlifting club. Since then, he has worked for various football clubs as an assistant coach, and as a strength and conditioning coach. He is also experienced in the fitness industry, where he worked as a personal trainer, and as a fitness coach. Finally, he has also worked as a Sports Scientist for Cardiff Metropolitan University's Weightlifting team, during his time as a postgraduate student.
As for his teaching career, he started teaching back in 2018 as a substitute/supply Physical Education Teacher in various schools in Cardiff. The next academic year, he found himself teaching Physical Education back in Greece at the International School of Piraeus, while his teaching journey with ACS Athens started in September of 2022.
As a young student, he competed in Olympic weightlifting competitions, with his greatest achievement being second place in the National Weightlifting Student Tournament of 2005. Finally, as a university student, he volunteered in various academic conferences and also participated in the conduction of studies, which he later presented in sports science National conferences.
email: litsasp@acs.gr