Lianos, Hercules, Faculty, English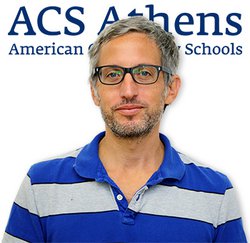 Mr. Lianos was raised in both New York and Athens, Greece. He holds a B.A. in English Literature from the University of Maryland, University College and an M.A. in Mass Communications from the University of Leicester. His dissertation focused on the role proximity plays in the reporting of international conflicts.
Prior to joining the ACS Athens faculty, he was an editor and project manager at Macmillan Hellas publishers and edited for the weekly English language newspaper The Hellenic Star. He also handled marketing and communication for Aurion Image and Sound Distributors.
Mr. Lianos currently teaches American Literature Combo 10, Humanities, IB Language and Literature Yr. 2 and Media Literacy, Communication and Production. His students produce The ACS Athens Observer and The Literary Arts Magazine, which showcase student media projects, literature and visual art. He has also held a position at the ACS Athens Writing / Research Studio where he guided students to become more effective, confident and independent writers.
As always, he is looking forward to the academic year and collaborating with his students.
email: lianosh@acs.gr