Dadidou, Natalia, Faculty, Social Studies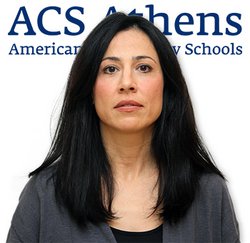 Natalia Dadidou was born and raised in Greece. She holds an MSc in Management from the London School of Economics and Political Science, University of London, UK (2000), an MBA (1998), and a BSc in Economics (1996) from the University of Macedonia Economic and Social Sciences, Thessaloniki, Greece.
Ms. Dadidou has been an IB Economics and IB Business Management teacher at ACS Athens since 2017. She has also served as a Theory of Knowledge instructor.
Ms. Dadidou has been a Board Member at Zeda SA since 2012, and a Partner at Tecvocate Inc., since 2005. She has worked as a financial analyst and has served as a Project Manager for Budgeting and Planning at the Athens 2004 Olympic Games Organising Committee's IT Department.
In 2019, Ms. Dadidou was honored by the ACS Athens Academy students with the "Teacher of the Year" certificate of recognition and an ACS Athens Academy Yearbook dedication.
She has published a novel, "Abacus, ένα παιχνίδι απληστίας" (Kedros Publishers, 2012), short fiction stories and economic commentaries. She is proud to have completed the Athens Marathon in 2022. Ms. Dadidou enjoys long-distance running, reading, writing, and playing the piano. She is a devoted mother of two boys and considers herself blessed to have discovered the beauty of being a teacher.
email: dadidoun@acs.gr