Cramer, Justin, Faculty, Science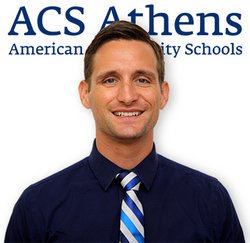 Mr. Justin Cramer grew up in Kansas City, Missouri. He went on to Buena Vista University where he earned his B.A. in General Science with an emphasis in Biology, and Secondary Education. He taught for 8 years in Midwestern United States teaching a variety of science subjects including Earth Science, Biology, Environmental Science, Physical Science, and Astronomy. He earned an M.A. in Secondary Education Administration from University of Central Missouri.
This is his tenth year at ACS Athens and he will be teaching Biology 9, Earth & Beyond, and AP Environmental Science.
Outside of school Mr. Cramer enjoys spending time with his family, being active, playing and watching sports, traveling, movies, listening to music, and reading.
email: cramerj@acs.gr