Apostolou, Peggy, Faculty, Music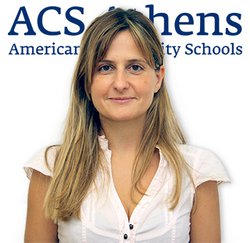 Ms. Peggy Apostolou was born and raised in Athens, Greece. After completing her school, and music studies at the conservatoire, she went on to higher education in the UK. She graduated with a Bachelor of Music from Napier University, Edinburgh, and a Master's Degree in Ethnomusicology as well as a Postgraduate Certificate in Education from Goldsmith University, London.
Ms. Apostolou started teaching music in schools whilst in London. She worked as a secondary school music teacher and a piano teacher for many years and involved herself with music and dancing from various parts of the world.
Upon her return to Greece, Ms. Apostolou started working at ACS Athens where she taught music to elementary school students from Kindergarten to grade five for a number of years.
Ms. Apostolou is the middle school and academy music teacher at ACS Athens. At the core of her teaching is the belief that students need to be exposed to various musical experiences in search of their own learning path and medium of expression. Ms. Apostolou strongly believes in the power of music as a tool in itself and also as medium for developing well rounded, responsible individuals.
email: apostoloup@acs.gr