Note from the Vice President and Dean of Academic & Student Affairs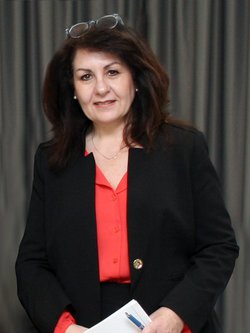 Dear ACS Athens Community Members,
As ACS Athens continues an exciting educational journey leading the way in international school education we are committed to optimal opportunities for student learning in a 'best fit' environment because we believe that all students can learn and thrive if given fertile ground. Our focus academically is best seen through an organic curriculum model based on national and international standards. ACS Athens is endorsed via the latest accreditation process, the "Sustaining Excellence" protocol, by Middle States Association as a school that has indeed achieved Excellence.
Principals, Division Chairs and Department Coordinators ensure the implementation of outstanding programs and optimal teaching methodology. The implementation of the Next Generation Science Standards, the Lucy Calkins writing program, a fine tuned EFL/ESL program, a dynamic International Baccalaureate, Advanced Placement program and the ACS Athens Scholar program are some examples of excellent academic options. Additionally, students have opportunities to be creative and to innovate via the State of the Art Media Studio, the Incubator of Student Creative Ideas and the myriad of projects that cater to their creative potential. Highly qualified in their subjects, faculty take pride in and engage with student work daily. The Adult Learning Environment created and encouraged at ACS Athens, via the Professional Development opportunities offered, enhances the lifelong learning mindset that everyone abides by. Thus faculty, administrators and specialists are frequent conference and workshop presenters internationally. Additionally, due to the belief that knowledge must be shared freely, ACS Athens faculty, administrators and specialists enjoy a record number of publications for a K-12 environment, in well known educational journals, books and media programs.
The Outstanding Academic programs at ACS Athens are wrapped with support, counseling, advisory and wellness programs to assist students in identifying their goals, charting their own paths and embarking on exciting higher educational journeys. The staff in the department of Student Affairs (PK-12) is dedicated to creating and supporting an optimal school environment where students can flourish in their uniqueness. Whether it involves planning for academic success through Advisory, Individual Counseling, College Guidance or helping students maintain a balance between mind and body through a variety of interest groups and activities or identifying student's unique strengths and facilitating growth through the Optimal Learning and Mentorship programs, or aiding students' social/emotional growth and coping abilities through the Wellness Center, there is a strong commitment to the ACS Athens philosophy of Holistic, Meaningful and Harmonious Education; learning that takes place not only within the classroom but also via Student Life outside of the classroom.
Through the Student Life programs youth have the opportunity to explore and develop their talents and abilities and to assume leadership roles in sports, music, the arts, student government and community service. The services provided offer great opportunities for the fine-tuning that is necessary in order for students to go out into the world to live, thrive and compete against the best. Furthermore, developing optimal citizens of the world is an ultimate goal at ACS Athens; citizens who can engage in problem solving within the community.
Most important is the essential triangle; the collaboration between student, school and family. Together, we can strive to ensure optimal success in our student's lives and in so doing; we can offer to the world our most prized gifts; the children that will comprise the world of tomorrow.
Thank you for joining us and being an intricate part of our efforts.
Sincerely,
Dr. Peggy Pelonis