ACS Athens welcomes you!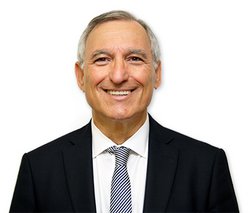 Dear Visitors and Friends of ACS Athens
I would like to welcome you to our new website and share with you some of the authentic and unique characteristics of our institution. We have currently reached the highest enrollment in the past 20 years, with more than 1,000 students (65 nationalities), more than 100 educators of which 14% are with Doctoral degrees and 86% with Masters degrees, and 130 plus published articles in academic journals, books, and the press. Last year our students from the class of 2018 received $1.2 million in college scholarships, which is more than ever before.
It is with great pride that I share with you that ACS Athens is widely recognized as a premier international school by university admissions officers and administrators, US accreditation agency, members of the international diplomatic corps, the business community, and professionals in the global international school community. Through inspired teaching, a rich and varied curriculum and an array of cultural, arts, athletics and service activities; incorporated into a student-centered approach to teaching and learning and an emphasis on fostering the habit of ethos, ACS Athens offers students a learning experience that is holistic, harmonious and meaningful, preparing them to live lives of meaning and purpose and to assume their roles as leaders and responsible global citizens.
I am very proud to work and serve such a community of faculty, staff, administrators, parents and Board of Trustees who make an invaluable impact on the lives of so many students. The growth of our community, with quality and integrity, would have been unimaginable a decade ago.
I would like to close with the following quote:
"If your dreams do not scare you, they are not big enough."

Ellen Johnson Sirleaf, Africa's First Woman President (Liberia)
Sincerely,
Stefanos Gialamas, Ph.D.
President