Welcome to ACS Athens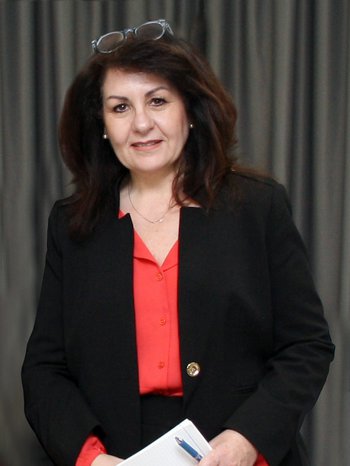 It is truly an honor to serve as President at ACS Athens among such outstanding leaders and faculty. Together we are committed to proving the best possible platform for all students to learn and grow as we transition into a new era. My first responsibility is to the students; ensuring that the educational experience is optimal. Providing the support necessary to facilitate their growth solidifies the belief that the students are at the center of the institution and challenges us all to educate students holistically; mind, heart and body. My second responsibility is to the faculty and administration as they are the pillars of the institution and work daily and directly with students to ensure that the learning environment fosters belonging, responsibility and academic excellence. Finally, supporting effective teaching methodology, a strong curriculum, innovative programs and opportunities for creativity and growth are a primary commitment.
The innovative projects make learning fun and intriguing, not only for students, but for all those who abide by the belief that learning is a lifelong process. Within ACS Athens I have had the pleasure to serve as Counselor, Faculty, Director, Dean and Vice President, roles that provided me with multiple perspectives of both the strengths of the institution and the areas to develop further. Likewise leading the Executive Council has placed me in the unique position to develop the vision and relevant strategies. Moreover, guiding the Strategic Planning of the school and having served on and lead Middle States accreditation teams for a variety of schools worldwide has positioned me to see the bigger picture of education. Ongoing collaborations with numerous universities and educational consultants across the globe allows me to stay in touch with current educational trends and supports the effort being made to bridge the gap between secondary and higher education. My work in psychology internationally however, serves as a gentle reminder that mental health is vital as today's challenges are numerous. The multiple, unwavering and accelerated changes that take place on a daily basis can leave one depleted of energy and lacking in meaningful living. Thus, I am particularly committed to guiding students to not only develop the skills and knowledge necessary to succeed in a competitive society, but to do so while being mentally and physically healthy, resilient, maintaining balanced lifestyles and being part of the solution in local and global issues.
As the leadership team continuously works to better align curriculum and improve teaching methodologies, we do so with the student's well being at the center of our beliefs. Furthermore, continuing to develop a meaningful Citizenship model that allows students to see their position within the community as well as within the world and to make choices that encourage thriving not only on a personal level but on a collective level is most necessary. Helping students develop Conscious Citizenship for a Sustainable Future ensures the sustainability of the planet and the wellbeing of society because it comes with the understanding that we are all an important and integral part of our environment and that every choice we make can either put us closer to collective well being or to harmful outcomes. Thus, individuals who develop positive, healthy, collaborative, contributive mindsets can ultimately use their knowledge and skill set for the benefit of society and sustainable living.
I am most grateful to have been the parent of a student at ACS Athens. I saw the development of a young person from within the school walls and from multiple perspectives. While the years were not lacking in conflict and doubt, I can confidently say that ACS Athens has been nothing short of a blessing and I enjoy watching from afar my daughter's transition to university knowing that she has been well prepared for the challenges therein.
The academic year 2019-2020 continues to be a rewarding year for all stakeholders as we continue to develop programs and provide opportunities that offer students the chance to mature and advance their knowledge and skill set while forming ideas of who they want to become. The most important partners in our endeavor however are parents. I hope to meet all of you and to have the opportunity to share thoughts and ideas.
My best to all for the coming year.
Dr. Peggy Pelonis, President