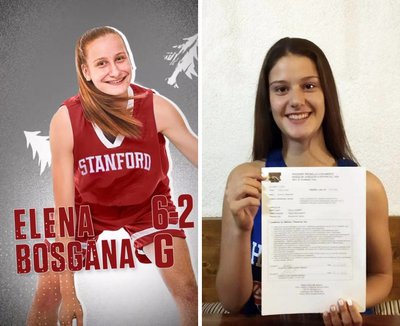 November is an important and "crucial" month for many seniors and their families; it is a month when early applications are due, and early college acceptances slowly trickle in.
For student-athletes, November is also the month when their University sports scholarship offers become official in writing; the National Letter of Intent (NLI) is signed by the student-athlete & their parent(s), and the commitment is final from all parties involved.
A few days ago, ACS Athens senior basketball players Elena Bosgana and Artemis Kouki signed their letters of intent with a great deal of excitement and satisfaction as they will soon become college student-athletes! Their hard work on and off the court, motivation, and persistence in academics as well as their sport, have paid off!
Both Elena and Artemis, stellar students, are recipients of the Hasib J. Sabbagh & Diana W. Tamari academic/scholarships; both joined our school as sophomores and have been members of our Varsity Girls team since then: Elena Bosgana is a member of the Junior National Hellenic Basketball team, having won a number of individual international awards, and now a member of the Women's National Hellenic Basketball team. She will attend Stanford University in the fall of 2021. Artemis Kouki is also a member of the Junior National Hellenic Basketball team and will attend Western Michigan University in the fall of 2021.
ACS Athens congratulates both student-athletes on their achievements - what a great success!
"I am super excited to be a part of this exceptional program! This scholarship will give me the opportunity to combine basketball and academics at the highest level and learn from the best! Nothing would have been achieved without ACS Athens! Everyone's support throughout this process was unique, and I am really glad I had the chance to meet all these amazing people!"

- Elena Bosgana
"Receiving a scholarship from an American university was a dream I was chasing for years. I knew from the beginning that reaching that goal would give me the opportunity to combine basketball & academics at a high level. Pursuing that dream was not easy, but it is definitely worth it! Having people supporting and encouraging me throughout this journey is one of the most important things I have experienced. Having said that, I want to thank ACS Athens and its amazing teachers, my classmates that were all very welcoming and supportive, and my family that taught me to stand up every time I fall. These three years at ACS Athens will be memorable, and I cannot wait to continue my steps in Michigan!"

- Artemis Kouki