Sinos, Faye, Academic Advisory 9 & 10, Counseling Specialist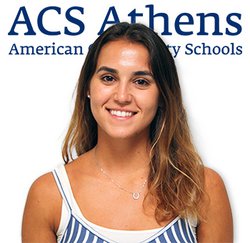 Ms. Faye Sinos holds a dual citizenship from Greece, and from the United States where she lived for 12 years. Ms. Sinos obtained her Masters in Applied Educational Psychology at the American College of Greece, where she also received her Bachelor degree in Psychology.
For her Masters placement she supported students academically by implementing specific strategies and interventions to middle school and high school students for the International School of Athens. She also instructed social and emotional lessons to elementary school students to help them develop their social skills, self-confidence and independence.
Ms. Sinos joined ACS Athens in May 2022 as an Administrative Assistant for the ACS Summer Camp. This year she will be teaching the Academic Advisory course for 9th and 10th grade.
email: sinosf@acs.gr