Xyrafakis, Christos, Math/Science Studio Coordinator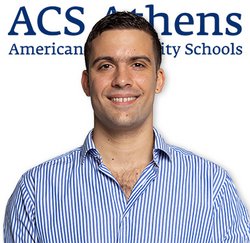 "Knowledge can only be considered as a dynamic situation. Knowledge is about connecting ideas with personal experiences."
Christos Xyrafakis holds a BSc in Mathematics and is a senior in the MSc program of "Epistemology and Didactics in Mathematics" both of which are offered at the National and Kapodistrian University of Athens.
Besides his strong theoretical background, during his studies Mr. Xyrafakis was involved in building math scenarios/games using technology and crafts. He believes that applying math concepts to real life problems is the key for students to gain a deeper knowledge of the world.
Mr. Xyrafakis taught all education levels of mathematics including the High Level curriculum and prepared senior students for their final exams.
In addition to his science studies and experience, he has an artistic background. He is a Contemporary Dancer, Teacher and Choreographer. He is a graduate of the National School of Dance in Athens as well as a postgraduate of Salzburg Experimental Academy of Dance in
Choreography (Austria), as a full scholar of the Onassis Foundation.
After living abroad for several years touring with famous national and international dance companies and experiencing multicultural environments, he regards himself as a "citizen of the world". He adores working with foreign students because in this way he gets to be more creative himself in class.
Mr. Xyrafakis has been a member of ACS faculty since January 2022. He is the Math/Science Studio Coordinator as well as a co-teacher for the Diving Deeper program.
email: xyrafakisc@acs.gr