Caparos, Despina, Faculty, Kindergarten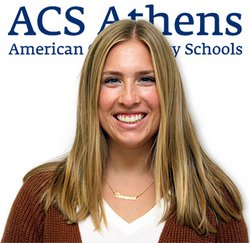 Ms. Despina Caparos graduated from Miami University in Oxford, Ohio, with her Bachelor's degree in Early Childhood Education. Throughout her college career, Despina participated in fieldwork in a variety of elementary settings with a wide range of elementary-aged children. During the summer of 2021, Despina organized and led an English as a second language summer camp for a group of elementary school and middle school students in Differdange, Luxembourg. Here she created and carried out lessons to promote the use of the English language with an international group of students.
Ms. Caparos was born and raised in a northern suburb of Chicago, Illinois. Outside of school, Ms. Caparos enjoys reading, trying out new recipes, traveling to new places and staying active. In the US, she was involved in various styles of dance her whole life and values the importance of working as a "team."
This is Ms. Caparos' third year at ACS Athens. She is eager and excited to teach kindergarten and continue to be a part of the ACS Athens community. She is looking forward to connecting and learning from her future students.
email: caparosd@acs.gr