Message from the President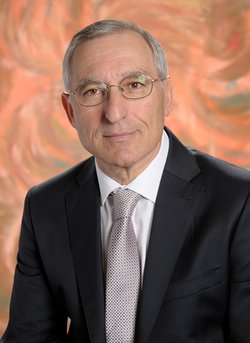 Dear Parents,
On behalf of the Board of Trustees, administration, faculty and staff, I would like to welcome you to the American Community Schools of Athens and thank you for entrusting us with the education of your children.
The 2018-2019 academic year is my 14th year serving ACS Athens. I am so proud to experience a continuous growth with quality and integrity of our institution in all aspects. Most important, is the fact that all of us are preparing your children to become global citizens with ethos, serving humanity.
Sincerely,
Stefanos Gialamas, Ph.D.
President
ACS Athens Highlights October 2018
Enrollment
Enrollment is continuing to grow and we have currently reached yet another new high! We currently have a total of 1,028 students. This is a clear indication that ACS Athens has a great reputation as an institution with both high academic standards and a strong commitment to serving humanity.
---
"Sustaining Excellence" Protocol – Reaccreditation (2022-2029)
I am very honored to report to you that I received a letter from the President of the Middle States Association (Dr. Henry Cram) regarding our decision (with the approval of the Executive Committee) to proceed for Re-Accreditation (2022-2029) under the "Sustaining Excellence " Protocol.
In particular his statement below clearly reflects MSA's respect for ACS Athens. "We are beginning to think about next steps for schools that have successfully used Sustaining Excellence. My consultations with you and Dr. Pelonis about your plans have provided me with a frame work for what our expectations for those schools should be." Dr. Henry Cram
Very few (K-12) premier schools ONLY in US (collaborating with universities, such as the University of Pennsylvania) have successfully completed the "Sustaining Excellence" protocol. No other international school accredited by MSA (more than 2,500) has attempted the "Sustaining Excellence Protocol."
---
Back to School Nights
The Back to School events were very successful. This year they were organized in a different way so as to allow parents to meet with their children's faculty in a more time efficient way.
Emphasis was in ensuring that the parents realize the importance of US accreditation and also the honor of ACS Athens being the ONLY international K-12 institution, among 2,700 accredited schools, accredited by the Middle States Association of Colleges and Schools with the "Sustaining Excellence" protocol. We will continue with the new cycle for this protocol that will provide ACS Athens reaccreditation until the year 2029.
The schedules for the Back to School days are as follows:
Elementary School – October 4, 2018
1:00 – 2:00 p.m. - for parents of students in Grades JK-2 - ACS Athens Vision Presentation by Dr. Stefanos Gialamas, President - in the Sabbagh Library
2:00 – 3:00 p.m. – for parents of students in Grades 3-5 – ACS Athens Vision Presentation by Dr. Stefanos Gialamas, President – in the Sabbagh Library
The parent classroom visits were broken up into two cycles

Grades JK-2 parents were able to participate in this event from 1:00 – 4:00 p.m. and then again from 4:00 – 5:00 p.m.
Grades 3-5 parents were able to participate from 2:00 – 5:00 p.m. Parents, who were unable to attend the homeroom visits, had the opportunity to do so again from 4:00 to 5:00 p.m.

This different approach to Back to School allowed more time for parents to visit with both the classroom faculty and specials faculty in a more time efficient manner.
Middle School/Academy – October 9, 2018
Both the Middle School and Academy Back to School events will take place on October 9th. Again, for the sake of efficiency, it was decided to have these two events on the same day.

The schedule created is as follows:

Middle School

4:30–4:50 p.m. - ACS Athens Vision Presentation by Dr. Stefanos Gialamas, President - in the Sabbagh Library – all grades.
4:50-4:55 p.m - Ms. Meyer briefs parents and releases to appropriate locations
5:00-6:00 p.m. – Core classes and PE presentations by grade level.
6:00-6:30 p.m. – ESL/EFL/Greek/Foreign Language/other electives faculty will be available – Open House/tour of building.

Academy

6:30 – 6:55 p.m. - ACS Athens Vision Presentation by Dr. Stefanos Gialamas, President – in the Sabbagh Library – all grades.
7:00 – 8:00 p.m. - Parents gather in specified classrooms to meet with faculty.
8:00 – 8:30 p.m. - Tour of the Academy classrooms.
---
JIC/ACS Athens 4-year Scholarship
ACS Athens and JIC Corporation announces one new, full, 4-year Academic Scholarship, in the name of JIC, which will provide a new student entering 9th Grade in September 2018 with the unique opportunity to study at the ACS Athens Academy (Grades 9-12).
---
Board Reception
On Wednesday, October 17, a welcome reception took place at which the Chairperson Mr. Suheil Sabbagh, Ada Gianneskis, Jeremy Ryver, Manya Louvari, Iraklis Prokopakis, James Stiegler, Tim Ananiadis, and Vasilis Gregoriou were present. The Board expressed their appreciation to all employees at ACS Athens. The reception ended with employees and Board of Trustees members in casual exchanges.
---
Peace and Sport Award 2018
ACS Athens received the "Regional Peace through Sport Initiative of the Year Award".
The Peace and Sport Awards are given to international or regional organizations and individuals who have made an outstanding contribution to peace, dialogue and social change in the world through sport. The winners of this global initiative have led projects that are symbolic of sport's capacity to reconcile divided or opposed communities. They are an inspiration to other stakeholders for what sport can achieve on the globally.
This year the Peace and Sport Awards took place on the island of Rhodes in October. The winner of this award was selected by a Jury Committee and announced during a ceremony that will took place on October 18 th in the presence of H.S.H. Le Prince Albert II de Monaco. We are excited to be the winners of this prestigious award.
---
Youth to Youth Program
It is with great pleasure that I share with you the attached document that outlines the Youth to Youth Program as it has evolved.
On September 6 th Mr. and Mrs. Shapiro visited ACS Athens to welcome the 18 selected children from the Home Project who are currently attending ACS Athens in this unique and authentic full-time Youth to Youth Program. The Shapiro Foundation has committed €245,000 a year for four (4) years as it relates to the assessment of the program. This potential four-year commitment reflects approximately €1,000,000 in funding.
At the same time, the part-time program will be continuing with 60 ACS Athens volunteers and 45 Home Project children. Sessions will run for nine weeks on Saturday from 10:00 a.m. to 4:00 p.m. All expenses are covered by donations from individuals and organizations.
---
University Collaborations
Our Ph.D. faculty to be potential adjunct faculty to teach summer courses both at the said universities and on-line.
Masters or Doctorate level courses to be offered at ACS Athens during the summer.
Invite other educational institutions to send their faculty to take these courses.
Opportunity for ACS Athens faculty to complete their Master's or Doctorate degrees with substantial discount scholarships.
ACS Athens to promote their institutions to our students and other high quality K-12 academic institutions in Athens and Greece making it a viable and attractive choice for undergraduate university studies.
To participate in a research process that assesses our model of education for the Youth to Youth students and the possibility of it being duplicated by other institutions. The universities we are currently communicating with are: Wilkes University, PA; Griffith University, Ireland; Chapman University, California, and Widener University, PA.
---
ACS Athens becomes the new publisher of the "International Schools Journal"
I am thrilled to share with you that ACS Athens IIC (Institute of Innovation and Creativity) will assume the publication of the prestigious Educational Journal "International Schools Journal" beginning November 2018. It is truly a great honor, but also a greater challenge to not only maintain the high quality of the journal, but also to make it better.